New York meets Dublin
From the same team that brought you The Bridge 1859; Noel Anderson, Jamie Heaslip, Dave Kearney, Rob Kearney and Sean O'Brien are the proud owners of Lemon & Duke. With the style and class of a Manhattan cocktail bar and the comfort and craic of an Irish pub, Lemon & Duke is a glimpse New York City in the heart of Dublin.
Lemon & Duke is a bright and spacious bar, perfect for a morning coffee or weekend brunch, evolving seamlessly into a late night venue, perfect for dinner followed by drinks and dancing.
Lemon & Duke's Bar
Lemon & Duke proudly joins The Bridge 1859 with fresh unpasteurised Pilsner Urquell from a unique tank system. Our drinks offering has been carefully selected to ensure a diverse collection of drinks, catering for everyone. Together with a large collection of draught and bottle beers, we have designed a bespoke cocktail list with everything from charming classics to unique flavourful creations. And if you don't fancy a drink, you've come to the right place. We carry a range of non-alcoholic wines, spirits and beers so you can always enjoy a drink at Lemon & Duke. The bar boasts a stylish interior with gleaming copper and a bright mirrored back drop that showcases our range of spirits. Lemon & Duke is perfect for the most memorable parties and nights out.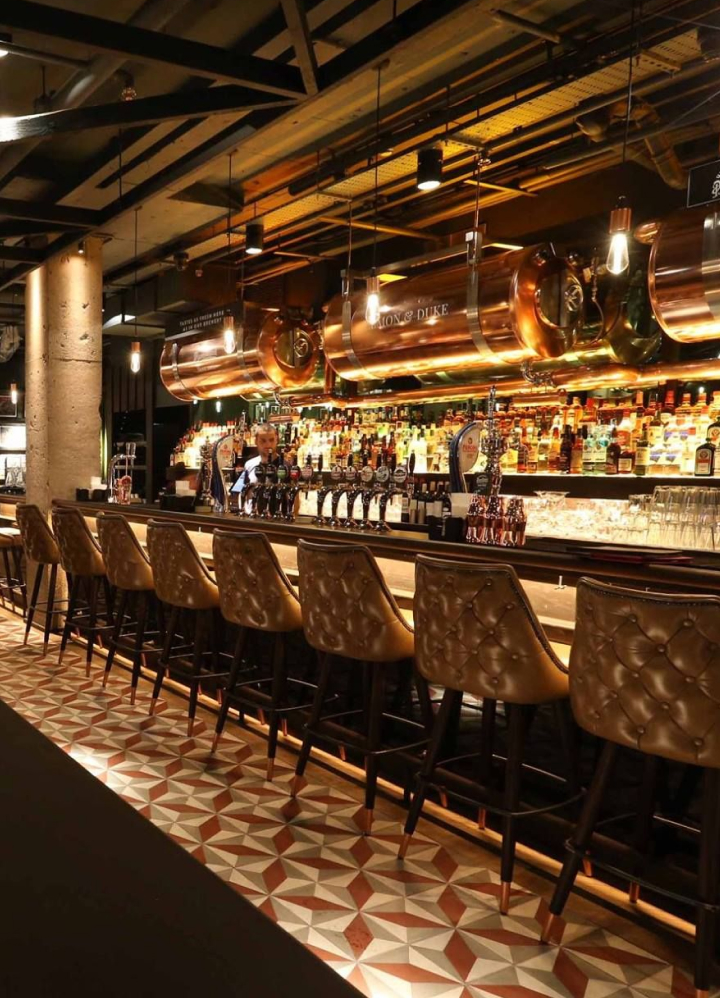 Discover the perfect city center Christmas party venue at Lemon & Duke. With a ample bar space and a semi-private Snug area Lemon & Duke can host a variety of Christmas parties from corporate events to special occasions. We have a selection of festive finger food and set lunch and dinner menus. Allow our dedicated reservations team to help you planning your perfect party!
Lemon & Duke offers something for everyone ranging from your classic draught and premium wines and spirits to non-alcoholic beers and cocktails.
Our team has carefully curated a quirky concoction list which has something for everyone - from twists on Sours to old school Swizzles. The cocktail menu heavily focuses on fresh produce and a symphony of different ingredients.
Our head chef Gustavo Leonel uses fresh, local produce to create menus that borrow from both European and South American cuisine with unique and powerful flavours.
For breakfast and brunch you can rely on Lemon & Duke to provide your classic favourites, along with some noteworthy new dishes.
Lunch consists of high quality gourmet sandwiches with bakery-fresh bread alongside healthy salads, select meats and the freshest fish.
Our Evening menu draws from our lunch and brunch menu with added sustenance for hearty dinner options. Whether it be a chicken supreme or a great steak, there is an option for everyone.
Then, to finish, try one of our homemade decadent desserts. Sigh. All our courses offer dishes that cater for vegetarian, vegan and coeliac diets.
Brunch in the Heart of Dublin
We believe that brunch is not just a meal, it's an experience. Our classic brunch options are a favorite among our regulars, but we're always looking to keep things fresh and exciting with new and innovative dishes. For those looking for a classic brunch experience, we offer all the favorites, such as a full breakfast and avocado toast. Our menu also includes exciting alternatives like chicken and waffles and beef brisket and eggs.
No brunch is complete without a delicious cocktail to complement your meal. Our brunch cocktail menu includes classic options like mimosas and bloody marys, but we also offer exciting twists in our extensive cocktail menu.
We understand the importance of catering to different dietary needs and preferences, which is why we also offer a range of vegan and vegetarian options. Our vegan and vegetarian brunch options include a full vegan breakfast and mushrooms on toast.
If you have an upcoming event or a special occasion, let the Lemon & Duke team look after you. We cater for all group sizes; everything from an intimate dinner for 2 to large group celebrations with single tables, full reserved areas and a semi-private space (The Snug) available. We have something for everyone with our cocktail & tequila classes, finger food, set dinners and more.
For groups of 2 - 6 people you can book through our online booking system below.
For larger groups, make your party enquiry by filling our booking enquiry form.
For late dinner sittings check our sister venue Little Lemon
Lunch
12pm-4pm Monday - Sunday
Dinner
4.30pm-9pm Monday - Sunday
Have a question?
If your desired timeslot is unavailable please contact the team at hello@lemonandduke.ie
Gift vouchers are available for Lemon & Duke
Perfect for friends, family, clients and colleagues - vouchers are redeemable for lunch, dinner or just drinks.
Simply select the value desired and upon payment your voucher will be emailed to you.